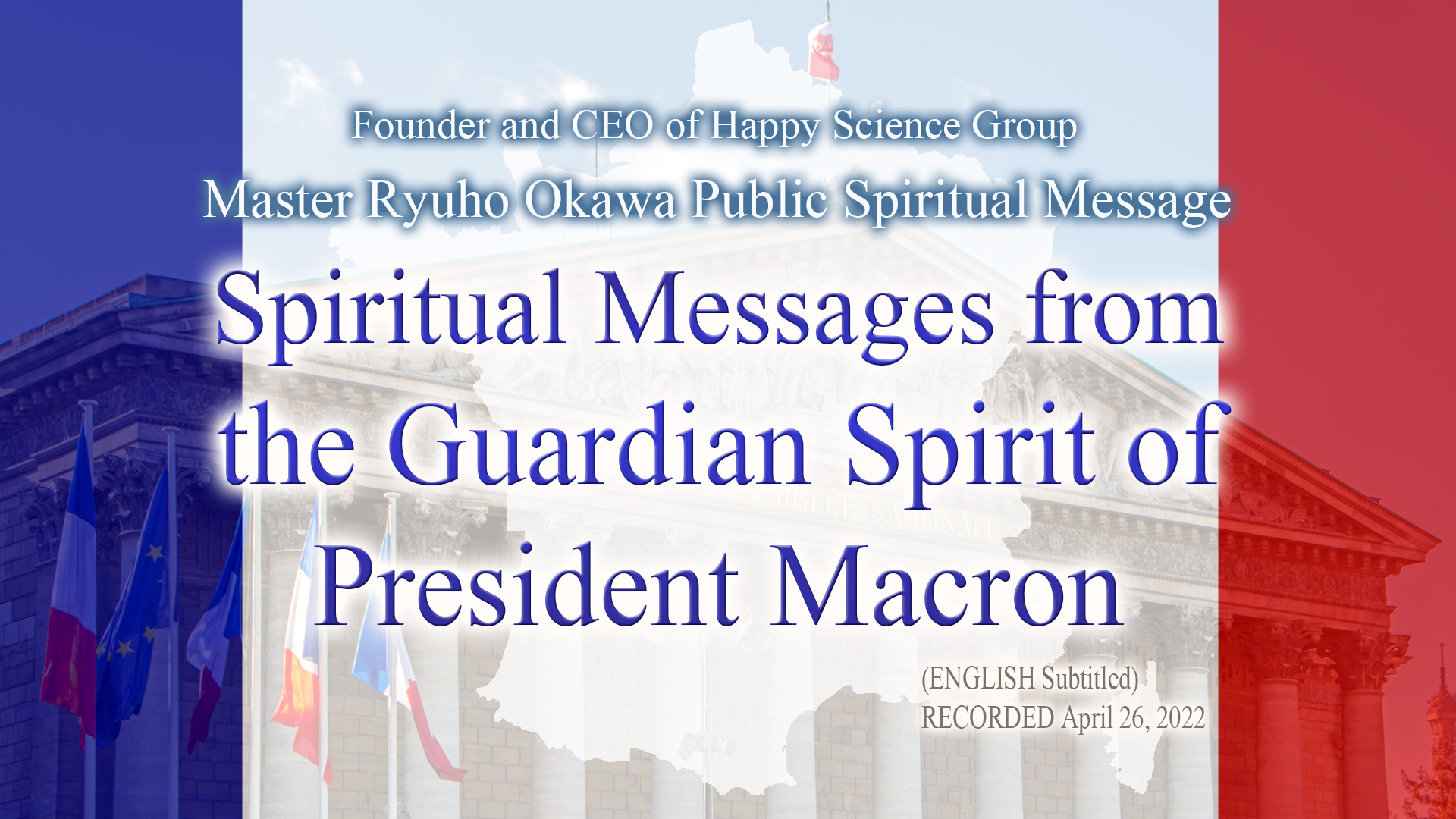 Category: Spiritual Message
Recorded: April 26, 2022
Available at branch, temple, shoja
How will the Re-elected French president, Macron deal with the Ukraine issue?
This spiritual message from the guardian spirit of the re-elected President Macron, reveals his thoughts on the Ukraine issue, his thoughts on Russia, and the state of France in Europe. The spiritual message is recommended for members, those who are interested in the Ukraine issue and France, supporters of the Happiness Realization Party.




Furthermore, the Kyouten, "The Laws Of Messiah,""Putin's Real Intentions on Ukraine Invasion: Interview with the President's Guardian Spirit," "The Truth Behind Kim Jong Un's Series of Missile Launching," "Spiritual Messages from the Guardian Spirit of President Zelensky (recorded urgently at 2 a.m., March 10)" *the novel, "The Unknown Stigma 1," "The Unknown Stigma 2 ," etc. are recommended. (Scheduled to be released in English soon.)



【Point】
◆About the "policy toward Russia". Is he going to continue the sanctions?
―How does he want to end the Ukraine issue?

◆What does he think about President Putin?
-What is his evaluation toward President Zelensky?

◆How does he think about the role of France in the EU?

◆Are there something in common with President Biden and Prime Minister Kishida's way of thinking?

◆What is the reason why China does not criticise Russia?

【Voice】


I felt that Mr. Macron is watching Mr. Biden and Mr. Zelensky calmly. This spiritual message is rare because it reveals the president of France's intentions, which is not quite opened to the media.(40s Male)


【Emmanunel Macron (1977~ 44 years old)】


President of France, former Minister of Economy and Industry.
2014 (36 years old) – Appointed as the Minister of Economy and Industry.
2017 (39 years old)-Defeated Marine Le Pen, the candidate who called for leaving the European Union, in the presidential runoff election, and became the youngest president in history at 39 years old. Macron again defeated Le Pen in the second round on 24 April 2022.