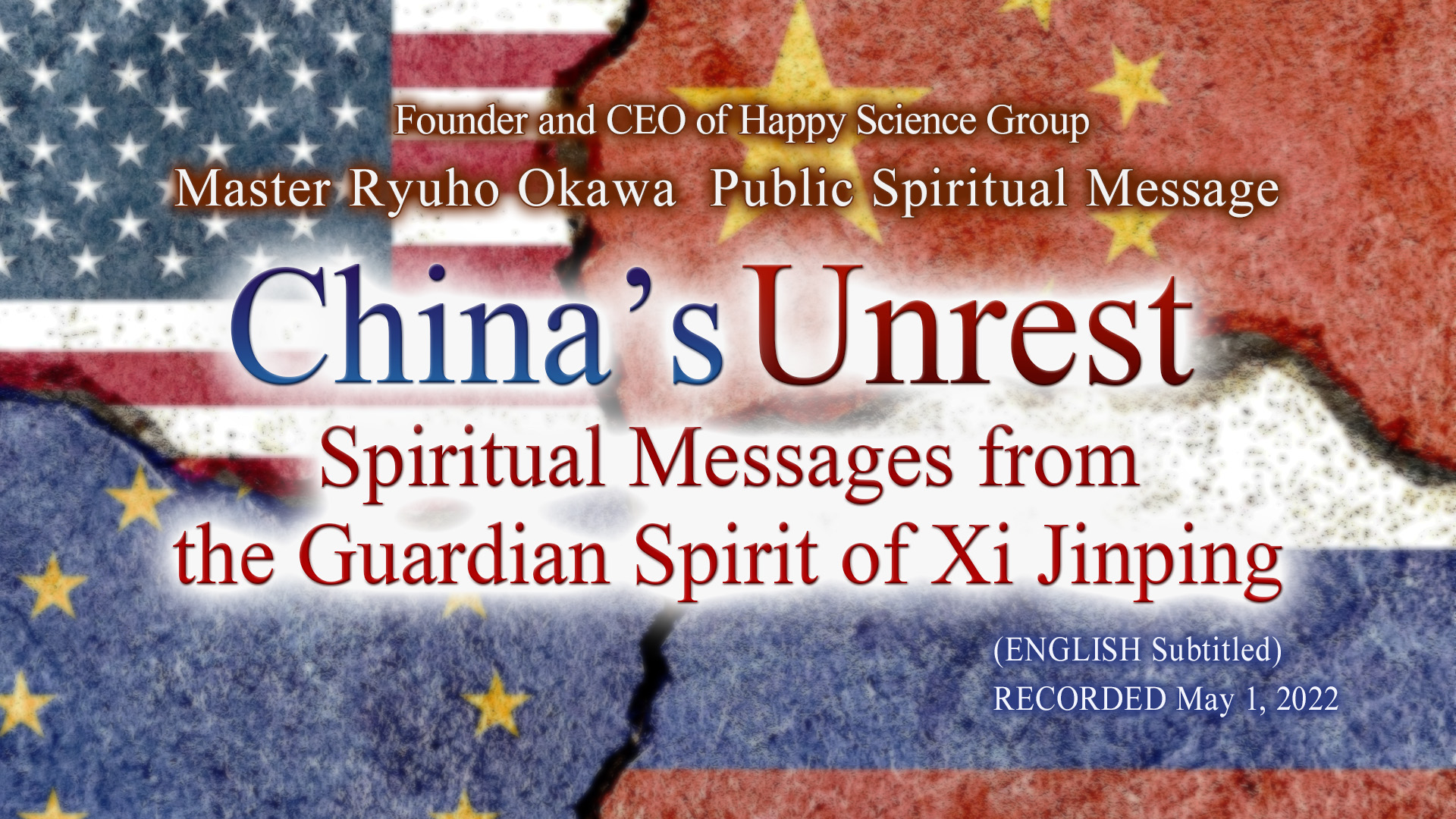 Category: Spiritual Message
Recorded: May 1, 2022
Available at branch, temple, shoja
In the midst of the Russia and Ukraine issue, will there be a Taiwan invasion from China?
While the world is in turmoil over the Russia and Ukraine issue, this spiritual message reveals the true heart of President Xi Jinping. It is recommended to those who want to know the movement of China in and world affairs, those who have read *the novel, "The Unknown Stigma" "The Unknown Stigma 2 ," supporters of the Happiness Realization Party and etc. (*Scheduled to be released in English soon)



Furthermore, the Kyouten, "Putin's Real Intentions on Ukraine Invasion: Interview with the President's Guardian Spirit," "The Truth Behind Kim Jong Un's Series of Missile Launching," "Spiritual Messages from the Guardian Spirit of President Zelensky (recorded urgently at 2 a.m., March 10)"etc. are recommended.

【Point】
◆Which side will China choose? Russia or various countries of Europe and America.

◆What is he thinking about the corona pandemic in Shanghai?

◆How does he evaluate President Zelensky and President Biden?

◆What is the worst scenario for China?

◆What is he thinking about invading Taiwan?



【Voices】


I was surprised that the guardian spirit of Xi Jinping seems different than before. It's unbelievable how Russia is being criticized by the world over the Ukraine issue and how the corona pandemic in Shanghai is giving some kind of influence. I thought now is the time for us to spread the Truth that Master Okawa preaches and make efforts to move the world in the right direction!(40s Male)



【Xi Jinping(1953~ 68 years old)】
Politician of the People's Republic of China.
2008 Appointed as Vice President of PRC.
2012 As the successor of Hu Jintao he became Party Secretary General and President of the Central Military Commission.
2013 Appointed as President of the State and Chairman of the State Central Military Commission at the National People's Congress.