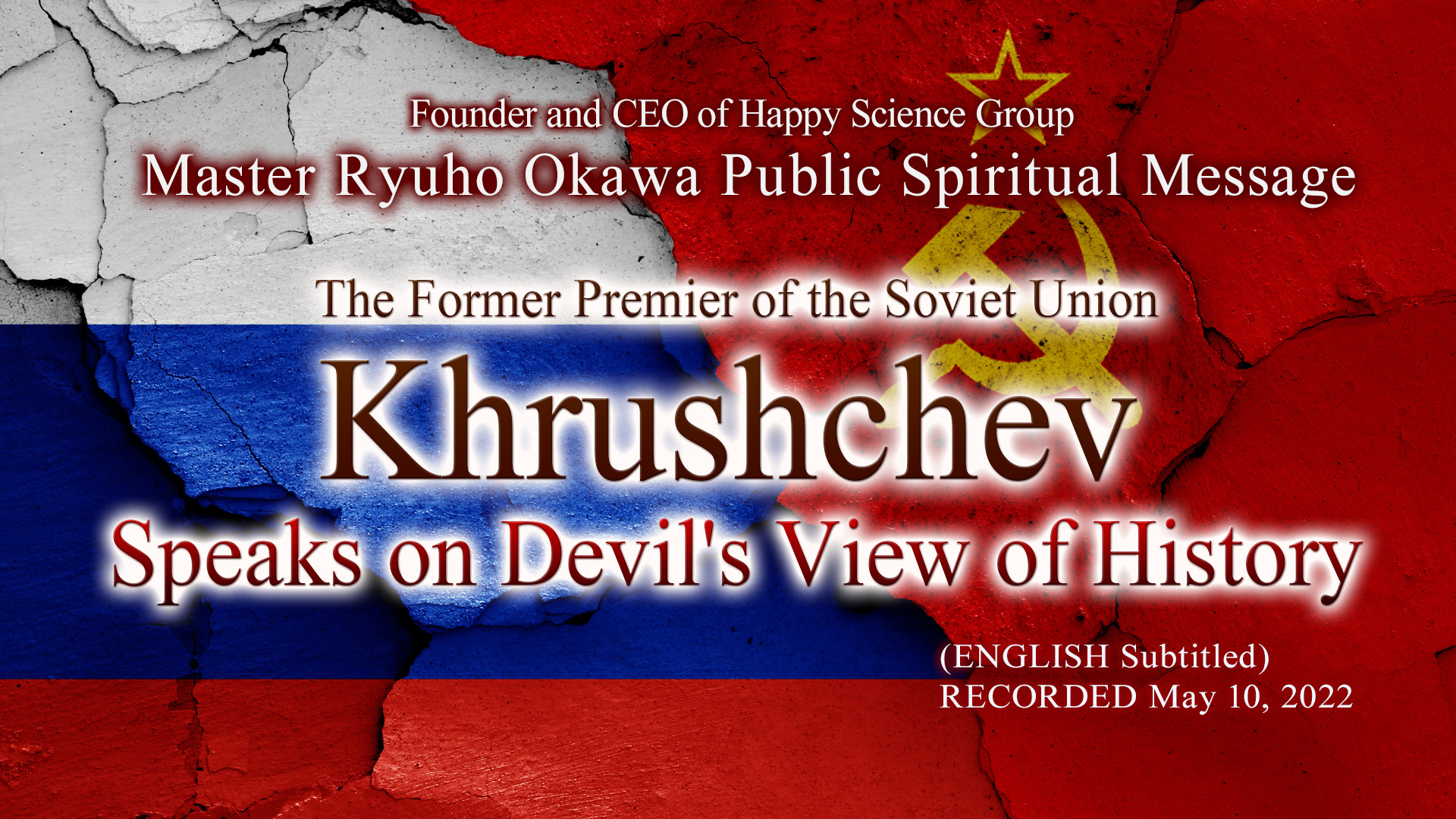 Category: Spiritual Message
Recorded: May 10, 2022
Available at branch, temple, shoja

What will happen to Russia?
The prospect of Ukraine issue from the former premier of the Soviet Union Khrushchev and the spiritual background.


This spiritual message from the spirit of former Soviet Prime Minister Khrushchev on the Russia-Ukraine issue, world affairs, and his requests to President Putin is recommended to those interested in the Russia-Ukraine issue, those interested in international politics, and supporters of the Happiness Realization Party and etc.




"The Laws Of Messiah," "Putin's Real Intentions on Ukraine Invasion: Interview with the President's Guardian Spirit," "Spiritual Message from the Guardian Spirit of Biden,", "Spiritual Messages from the Guardian Spirit of President Zelensky (recorded urgently at 2 a.m., March 10)", are recommended as well.




【Point】
◆What is the message that the former premier of the Soviet Union wants to say to President Putin?

◆Was there an influence from the evil space beings in the former Soviet Union?

◆What is his evaluation towards President Biden and former President Obama?
――Who is the "controlling entity" of President Biden behind the scenes?

◆How does Khrushchev think about Mr. Zelensky?

◆How does a former Soviet prime minister read the chaotic "world affairs"?


【Voice】


I think this is a very valuable spiritual message that gives us a spiritual background on the Ukraine issue. I was surprised to see the spiritual influence behind President Biden's scheme of passing the "Lend-Lease Act".(50s Male)


【Khrushchev(1894~1971 77 years old)】


Politician of Former Soviet Union
After serving as First Secretary of the Party and Prime Minister of Ukraine, he became First Secretary of the Central Committee of the Communist Party of the Soviet Union after Stalin's death in 1953. 1956: Criticised Stalin.
1958: Becomes concurrently the Prime Minister of the Soviet Union 1962: Tried to bring nuclear weapons into Cuba, causing the "Cuban Missile Crisis.
1963: Signed a partial nuclear test suspension treaty with the U.S.