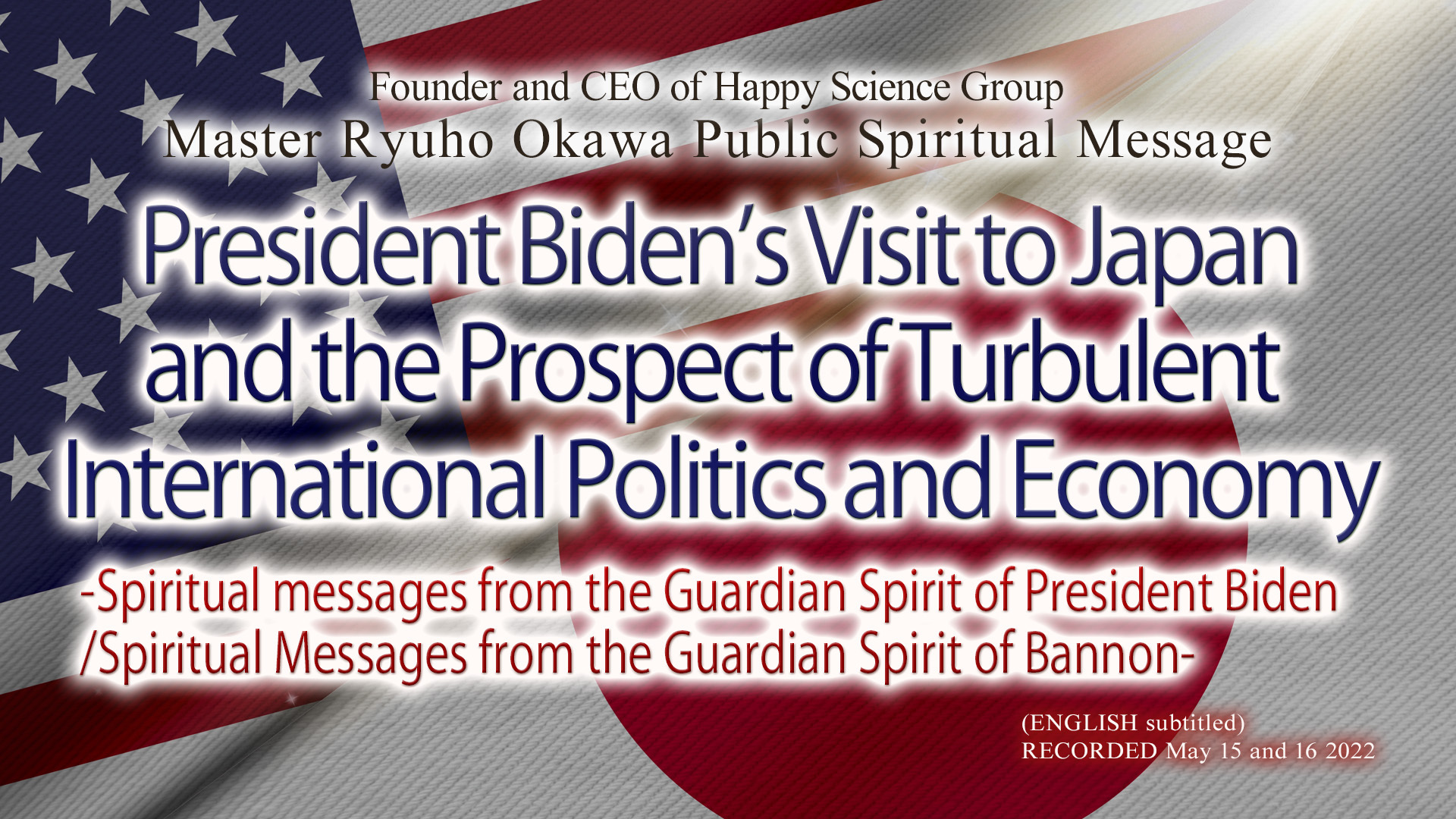 Category: Spiritual Message
Recorded: May 15 and 16, 2022
Available at branch, temple, shoja
The purpose of President Biden's visit to Japan and consequences of the Ukraine issue based on an economic prospect.
The guardian spirit of President Biden spoke about the purpose of his visit to Japan. The guardian spirit of Stephen Bannon, who served as former President Trump's Chief Strategist, spoke about his "views on the Ukraine issue, including economic perspectives" and "future world affairs. These two spiritual messages are recommended for those who are interested in the Russia/Ukraine issue, those who are interested in international politics, and supporters of the Happiness Realization Party, and etc.




Furthermore, the Kyouten, "The Laws Of Messiah," *the novel, *"The Unknown Stigma 1," "The Unknown Stigma 2 [The Resurrection]" (Scheduled to be released in English soon.), "Putin's Real Intentions on Ukraine Invasion: Interview with the President's Guardian Spirit" are recommended as well.

(*Scheduled to be translated in English)


【Point】
[Spiritual message from the G.S. of President Biden]
◆What is the purpose of his visit to Japan? What is the definition of his "democracy"?

◆What does he think about Elon Reeve Musk?

[Spiritual message from the G.S. of Bannon]
◆How does he analyze the Ukraine issue from the view of economics?

◆How does he watch the Biden government, US midterm election, and China?

◆What is the message from the guardian spirit of Bannon to Happy Science Group?

【Voices】


In contrast to the way of thinking of Mr. Biden's Patronus, I thought that Mr. Bannon's "Ukraine problem" from an economic viewpoint and his "judgment on the world situation" were very sharp. (50s, Male)



【Joseph Robinette Biden Jr(1942~ 79 years old)】
Politician of America and a lawyer.
The 46th President of the United States of America. Born in Pennsylvania.
Belong to the Democratic Party. Assigned as the vice president from 2009 to 2017 from Mr. Obama.
Became the President in 2021 at the age of 78.
Known as Joe Biden.


【Stephen Kevin Bannon(S1953~ 68 years old)】
After serving as a naval officer, he earned an MBA from Harvard University.
In 2012, he became Chairman of Breitbart News, a conservative internet news site.
In January 2017, he was appointed Chief Strategist to former President Donald Trump.
He remains in frequent contact with Trump and is considered a key player in Trump's move toward the 2024 presidential election.