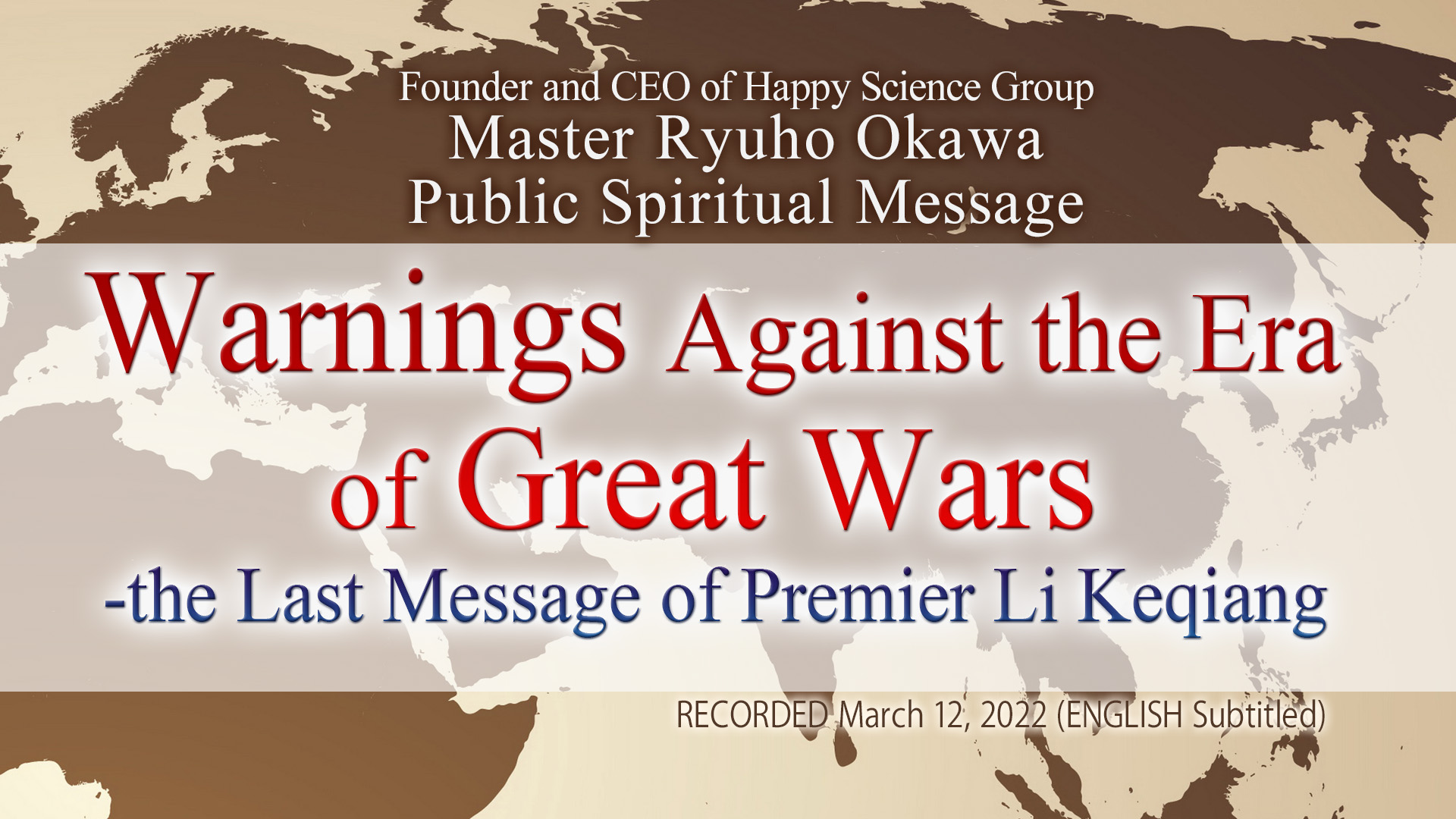 Category: Spiritual Message
Recorded: March 12, 2022
Available at branch, temple, shoja
A year left until resignation! What is the guardian spirit of premier Li Keqiang's true intention?
Speaks on the "China's military trend".



The guardian spirit of premier Li Keqiang, spoke about his role in domestic politics and his future "outlook on international politics." This spiritual message is recommended to those who are interested in international politics, supporters of the Happiness Realization Party, the mass media, etc..


Also, "The Laws Of Messiah," "The Xi Jinping Thought Now," "Putin's Real Intentions on Ukraine Invasion: Interview with the President's Guardian Spirit," and "Inside the Mind of President Biden: Thoughts Revealed by His Guardian Spirit Days Before His Inauguration"


【Point】
◆When will China invade Taiwan? What is China thinking about the attack in Ukraine from Russia?

◆What will happen to the Chinese economy and foreign affairs after his resignation? Li speaks bluntly about his true feelings on Xi Jinping's runaway.

◆"Coronavirus" will be spread further on?
How is the corona attack directed?

◆Unexpected spiritual origin about Li Keqiang is now revealed!?

◆What is the only force that the Chinese side considers "incalculable"?


【Voice】


・I was very surprised to hear what the guardian spirit of prime premier Li Keqiang spoke about. I strongly thought that this is why the teachings of Messiah of the Earth are preached now and it's the only hope. I thought I really need to convey to humanity, the descent of the Lord.(30s Male)



【 Li Keqiang(1955~ 66 years old)】


Politician in People's Republic of China. After serving as Secretary of Henan Province and Secretary of Liaoning Province, he was appointed Executive Vice Premier of the State Council in 2008. He became Premier of the State Council (premier) in March 2013. He is scheduled to retire at the National People's Congress in 2023 after two terms of 10 years in office.