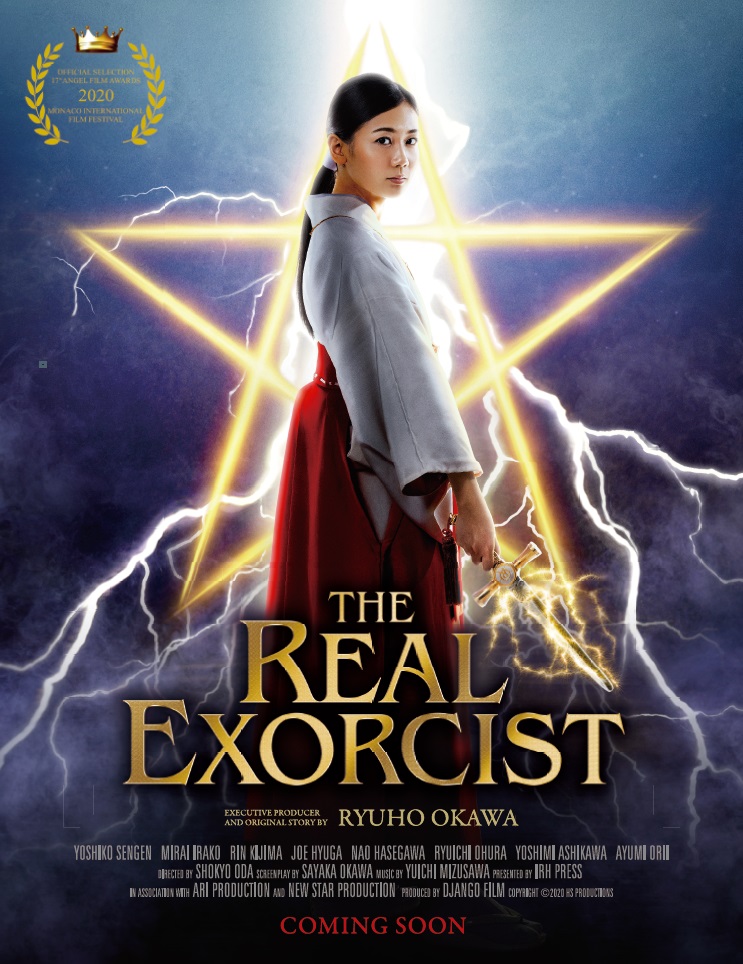 [Breaking News]
The Eko International Film Festival (Lagos Nigeria) was held from 10th to 14th March, 2020. In that event, the latest Happy Science movie, "The Real Exorcist" (Executive Producer and Original Screenplay by Master Ryuho Okawa and Screenplay by Sayaka Okawa) had received two awards.
[AWARDS]
♔Best Feature Film
♔Best Supporting Actress RIN KIJIMA
CONGRATULATIONS!!
Comments from Yoshiko Sengen (Leading Actress), Rin Kijima (Supporting Actress), and Shokyo Oda (Director)
Yoshiko Sengen
I heard that Nigeria creates so many films a year. It's a country that many film lovers gather. We are honored to be chosen for the Best Feature Award. I read some comments who have seen "The Real Exorcist" and I really felt that the message in this movie is fundamental and necessary in people's lives. Congratulations! Also, congratulations to Rin for receiving another the Best Supporting Actress Award! Very good!
Rin Kijima
Congratulations for receiving the Best Feature Award. I want to give my deepest gratitude for letting me be in part of such a great film. The shootings were so stimulating for me and it was one of the happiest days in my life. Also, I am so honored to be able to receive the Best Supporting Actress Award. I was able to receive this award because of the people who have always been supporting me. Thank you very much.
Shokyo Oda
We received awards at Monaco International Film Festival last month, and again, we are very grateful to receive these awards at one of the biggest film festivals in Nigeria. I want people in Africa as well as the world to enjoy this movie.Thank you very much.
Comments from the Audience
>Wow! This is what I have been waiting for! There are many things to learn from this movie.

>I was very excited what would happen in the end. I was nailed to the chair from the beginning till the end!

>It tells the Truth, and gives us a lot of learnings.




The annual Eko International Film Festival (EKOIFF) is an international film festival in the coastal Megacity of Lagos in southwestern Nigeria.It was founded and established by Hope Obioma Opara in 2009 and Hope Obioma Opara is the also the CEO of Supple Communications Limited under which the festival is Holden. He is also the publisher of Supple magazine a film festivals and culture magazine in Africa showing previews and reviews of movies and interviews on www.supplemagazine.org. Eko International Film Festival is Non Profit Organization and is a platform for film festival and training for young film makers.The mission of Eko International Film Festival is to promote the appreciation of Arts and Culture through the motion picture arts and sciences and increase tourism in Nigeria.

(from Eko International Film Festival homepage.)




The movie, "The Real Exorcist" will be coming to theaters soon in overseas and from May 15th, in Japan. Stay tuned!




Related Articles
"Who is Master Ryuho Okawa"?
"Monaco International Film Festival"
"Monaco International Film Festival Short Interview"
"The Possession"
"Spiritual Reading of Paranormal Phenomena"