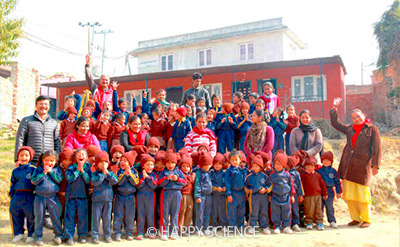 One year has passed since the earthquake hit Nepal on April 25th, 2015.
Through the HS Nelson Mandela Fund, the Happy Science Group made an emergency donation last year.We would like to give our appreciation to the many people who had offered their sincere support. We are currently focusing our efforts on reconstruction support mainly around the educational system. We would be grateful for your continued cooperation.
School Reconstruction Started!
The reconstruction of two school buildings in Katmandu city and Gorkha district was approved, and the ground sanctification ceremony was held at the end of April. Part of the profits from the movie, The Laws of the Universe- Part 0 has been allotted to the construction of Katmandu's school buildings.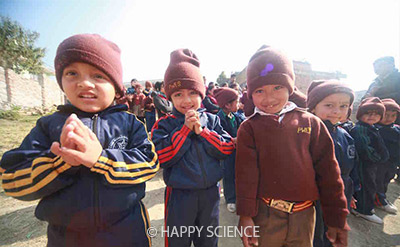 Appreciative Words
Vice Principal of the school in Katmandu
I was deeply moved when I was offered financial reconstruction aid. I was worried about the children's education hereon, but as Master Okawa has mentioned in his lecture, "Angels are always with us," I can feel the angels watching over the children's education. Thank you so much for the immediate assistance for the construction toward the slow recovery of Nepal.
A teacher from the school in Gorkha
Gorkha was the region with the most damage, but right after the earthquake, we received immediate support with tents and supplies. This really saved us, I am so grateful. Also, the school building which was built a few years ago with the assistance from Happy Science was safe from the earthquake so we have been able to continue our classes. I feel that we are really protected. I was deeply touched when I heard about the offer to reconstruct a second school.
Resident of Katmandu
I think it is truly amazing how they overcame obstacles to provide aid for reconstruction, and give support with supplies for the happiness of others. I would like to learn more of the HS teachings and lead my life in a brighter direction.
Related Articles
Nepal Earthquake Emergency Relief Activities
Donation of a Container Library to Nelson Mandela Foundation in South Africa
Donation of Supplies for Ebola Prevention in West African Schools