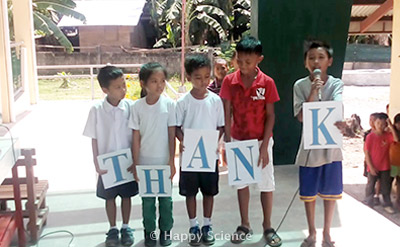 In hope of nurturing future leaders of the Philippines
On July 17th, three Happy Science branches in the Philippines (Taytay Branch, Antipolo Branch, Metro Manila Makati Branch) have donated 50 copies of Children of Light (Tagalog version), a bookshelf and 18 ceiling fans to Fatima Elementary School through the HS Nelson Mandela Fund. The school was severely damaged by the massive typhoon that hit Leyte Island in 2013.
"By having children there learn, from an early age, the concept expressed in Children of Light taught as the core of education, we hope to nurture future leaders of the Philippines." The donation was offered in such a spirit.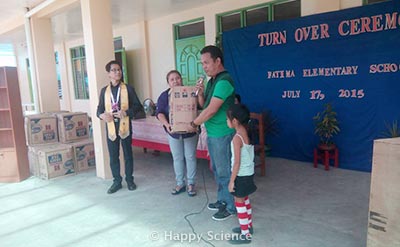 After the donation ceremony, they watched a lecture given by Master Ryuho Okawa
We received words of appreciation from the students. "We want many students to enjoy this blessing as long as possible, so we will use these carefully and correctly with respect. Thank you." After the donation ceremony, 89 people of students, teachers and guardians watched Master's lecture, "The Great Turning Point in Human History". It was impressive to see everyone watching the lecture very carefully.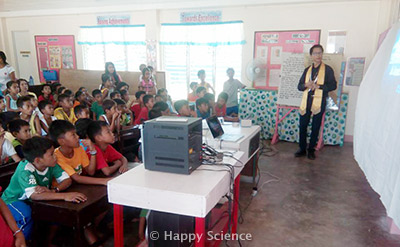 The HS Nelson Mandela Fund helps those under discrimination (racial, gender and caste), in poverty and under political oppression, by providing support in education and medical treatment. It is a fund established within Happy Science and it organizes activities to create a hopeful future for these people. The Happy Science group will continue to support activities all over the world.
Related articles
Donation of a Container Library to Nelson Mandela Foundation in South Africa
Donation of Supplies for Ebola Prevention in West African Schools