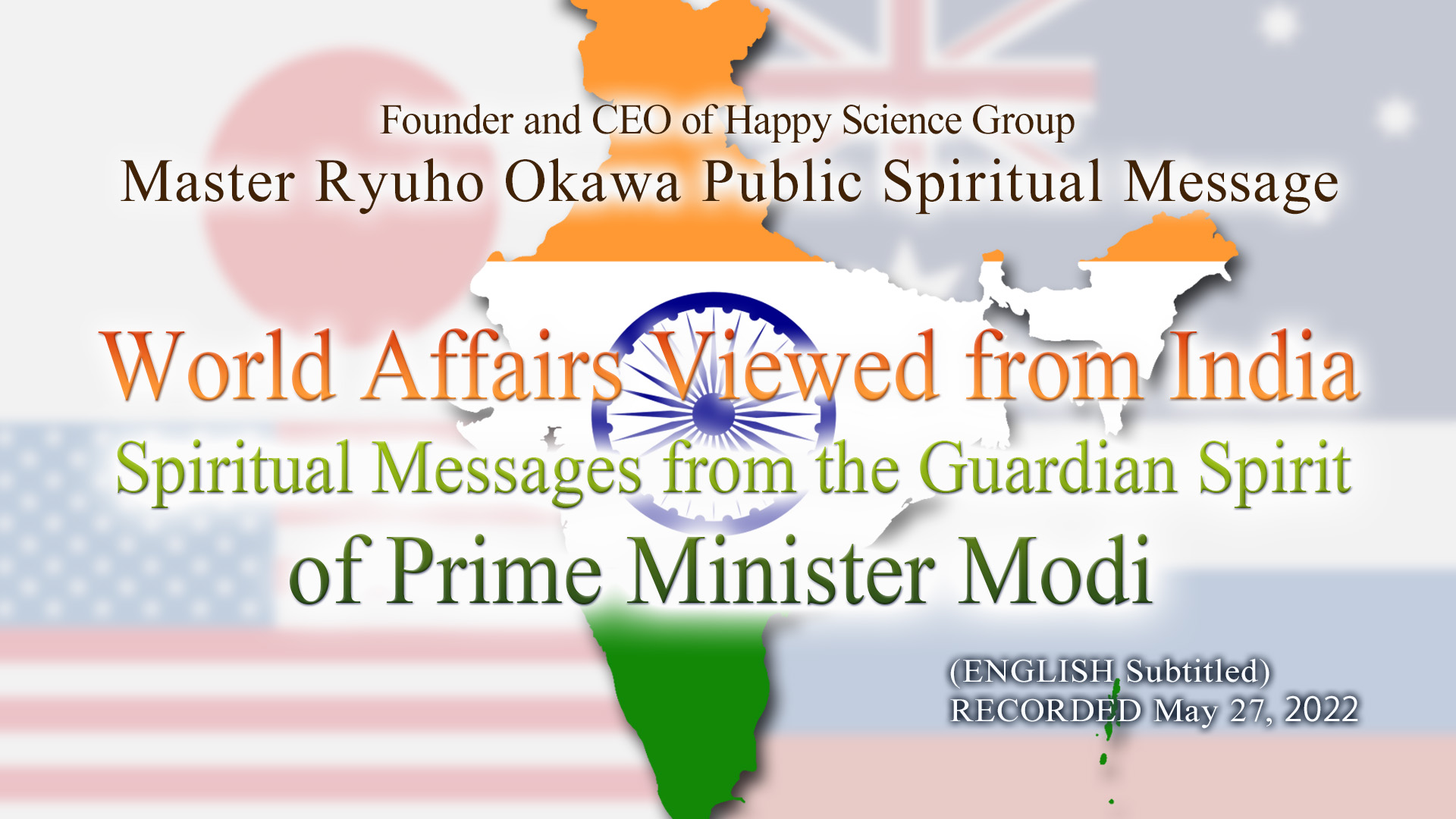 Category: Spiritual Message
Recorded: May 27, 2022
Available at branch, temple, shoja
What was the "true intention" of the Prime Minister of India in participating in the "Quad" (Japan-U.S.-Australia-India summit meeting)?
We have recieved a warning to Japan and the analysis of International affairs from the guardian spirit of the Prime Minister in India, Modi. This spiritual message is recommended to those who are concerned about the Russia/Ukraine issue, who have interest in India and International Politics, supporters of the Happiness Realization Party and etc.




"The Laws Of Messiah," *The novel, "The Unknown Stigma 1," "The Unknown Stigma 2 [The Resurrection], "Putin's Real Intentions on Ukraine Invasion: Interview with the President's Guardian Spirit," are recommended as well.
*Scheduled to be released in English and other languages.


【Point】
◆How is the Ukraine issue seen from India?

◆The prospect of a "world power chart" and what India is trying to take as their national strategy.

◆What should Japan do in the midst of this turbulent world affairs?
――Advice to Japan

◆What is the next infectious disease that is predicted to prevail in the world?

◆What is Prime Minister Modi's "spiritual origin"? Talks about the possibility of Happy Science's "Missionary work in India".


【Voices】


I found the analysis of Prime Minister Modi's guardian spirit on the situation of major countries in the world to be very informative, and at the same time, his objective opinion on the situation in Japan made me aware once again of a strong sense of crisis.(40's Male)



【Narendra Modi(1950~ 71 years old)】
Prime Minister of India.


As the Chief Minister of Gujarat, he successfully revived the state's economy and gained popular support as a clean politician in addition to his outstanding administrative skills.
He has been the Prime Minister of India for eight years since May 2014.
He is said to be pro-Japanese and is seen as Hinduist in his religious beliefs.