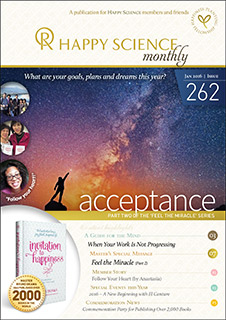 Happy Science Monthly 262
A Happy 2016! In this issue, we have A Guide for the Mind on what to do when your work isn't going smoothly. Master's Special Message isa continuation from the last issue on feeling the miracle. Anastasia from New York shares with us her experience of how her life changed after meeting Happy Science. We recommend taking ritual prayers to further your soul training and hope this year is filled with much happiness and joy!
Contents
● A Guide for the Mind: Establish Your Wour Fork Iaiths Not Progressing
● Contemplation Points: When Your Work Is Not Progressing
● Master's Special Message: Feel the Miracle (Part 2)
● Member Story: Follow Your Heart (by Anastasia)
● Special Events this Year: 2016 – A New Beginning with El Cantare
● Book Reviews and News: Invitation to Happiness news
● World News: The latest news from Canada, United Kingdom, Singapore & Japan
● Commemoration News: Commemoration Party for Publishing Over 2,000 Books
● The Laws of the Universe – Part 0: Happiness Planting for Worldwide Screening
● Happiness Planting: The essence of Happiness Planting
● Happy Science Contacts: North America, South America, Europe, Africa, Asia & Oceania
An image video for the Guide for the Mind is available for your deeper understanding.
We also have a print-edition with full-content articles available at your local temple.
Please contact us to receive the latest issue!