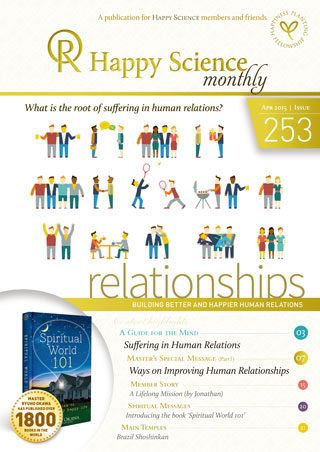 Happy Science Monthly 253
Spring is finally here! In this issue, we have A Guide for the Mind and Master Okawa's Special Message that both focuses on the topic of making your relationships with other people better. Jonathan from Atlanta shares with us the wisdom he has learned from Happy Science and expresses his deep gratitude. Mr. Maeda gives us a highlight of Brazil Shoshinkan, news from members and its activities. We also have a new Lesson for Kids section! May this issue bring you great wisdom, joy and happiness for your life.
Contents
● A Guide for the Mind: Suffering in Human Relations
● Master's Special Message (Part1): Ways on Improving Human Relationships
● Member Story: A Lifelong Mission
● Spirit World: Introducing the book 'Spiritual World 101′
● Main Temples: Brazil Shoshinkan
● World News: Latest news from Hawaii, Russia and Benin
● Happiness Planting: Latest news & the completion of the Happy Science University
● The Golden Age Scholarship: Application details for students
● Lesson for Kids: Let's learn to be happy with the 'Let's Be Happy' book!
● Happy Science Contacts: Worldwide Contacts and London Local Temple Spotlight
We also have a print-edition with full-content articles available at your local temple.
Please contact us to receive the latest issue!