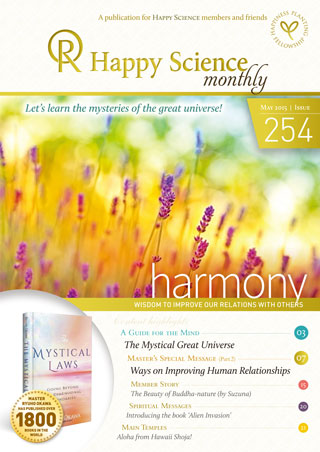 Happy Science Monthly 254
April showers bring May flowers! In this issue, we have A Guide for the Mind about the mystical great universe and also a new book release on the theme of visitors from outer space. We continue with Master Okawa's Special Message about how to improve our relationships with others. Suzuna from New York shares with us her journey to faith and the joy in believing in people's Buddha-nature. Also, we get a glimpse of the temple in Hawaii with their special seminars, prayers, and beautiful wedding ceremonies.
Contents
● A Guide for the Mind: The Mystical Great Universe
● Master's Special Message (Part2): Ways on Improving Human Relationships
● Member Story: The Beauty of Buddha-nature:
● Spiritual Messages: Introducing the book 'Alien Invasion'
● Main Temples: Aloha from Hawaii Shoja!
● World News: Latest news from New York and France
● Happy Voices: I received a Gohonzon!
● The Golden Age Scholarship: Application details for students
● Lesson for Kids: Let's learn to be happy with the 'Let's Be Happy' book!
● Happy Science Contacts: Worldwide Contacts and New York Local Temple Spotlight
We also have a print-edition with full-content articles available at your local temple.
Please contact us to receive the latest issue!