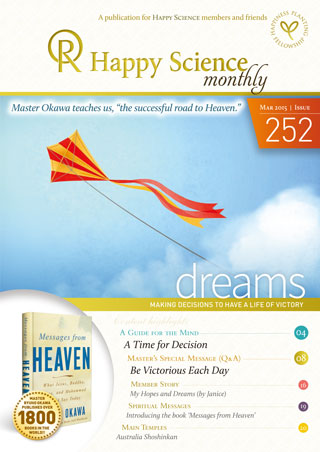 Happy Science Monthly 252
Hi to members and friends around the world! We are delighted to share with you this month's A Guide for the Mind that will help you in making life decisions and Master Okawa's Special Message on how to dream big. Janice from Canada shares with us her experiences, hopes and dreams. Brian welcomes us to the beautiful Australia Shoshinkan in Sydney and activities held there. Also, don't forget the upcoming spring retreat in Japan! May the contents bring you great happiness for your own spiritual journey in life.
Contents
● A Guide for the Mind: A Time for Decision
● Master's Special Message (Q&A): Be Victorious Each Day
● Member Story: My Hopes and Dreams
● Spiritual Messages: Introducing the book 'Messages from Heaven'
● Main Temples: Australia Shoshinkan
● Upcoming Events & Seminars: International Retreat, Devotees Seminar & The Laws of Wisdom
● World News: Latest news from Brazil, Nepal and New York
● Happiness Planting: Happiness Planting News & El Cantare Statue Project
● Happy Voices: I received a Gohonzon! Members share their joyful comments
● Happy Science Contacts: Worldwide Contacts and Los Angeles Local Temple Spotlight
We also have a print-edition with full-content articles available at your local temple.
Please contact us to receive the latest issue!