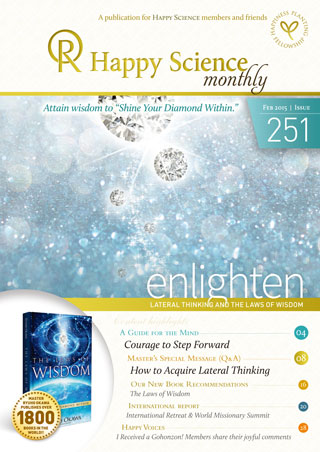 Happy Science Monthly 251
Hello to everyone around the world! In this issue, we have A Guide for the Mind and Special Message from Master Okawa that teaches us the importance of always taking a step forward by working diligently. Many members share with us their testimonies on taking the Special Ceremony to purify your past, seminars at the International Retreat, attending the World Missionary Summit, and receiving the Gohonzon. We hope you will be inspired in taking a new step forward on this year of The Laws of Wisdom!
Contents
● A Guide for the Mind: Courage to Step Forward
● Master's Special Message (Q&A): How to Acquire Lateral Thinking
● Our Latest Book Releases: Our Recent Books & Book Fair News
● Special Ceremony: The Initiation to Purify Your Past & Testimonies
● International report: Autumn International Retreat 2014
● International report: World Missionary Summit & Japanese Speech Celebration
● World News: Latest news from Mongolia, Japan & El Cantare Celebrations
● Happiness Planting: HS Nelson Mandela Fund News
● Happy Voices: I Received a Gohonzon! Members share their joyful comments
● Happy Science Contacts: Worldwide Contacts and Branch Spotlight
We also have a print-edition with full-content articles available at your local temple.
Please contact us to receive the latest issue!