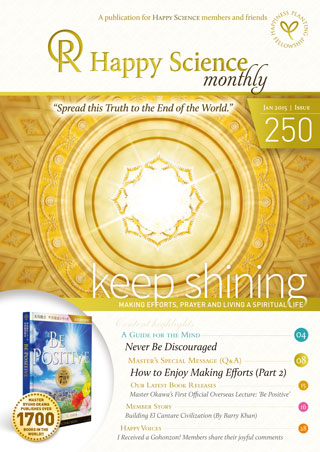 Happy Science Monthly 250
Happy New Year! We have a 'new look' of Happy Science Monthly for members and friends to share the joy of learning and practicing the teachings of Master Okawa. Both A Guide for the Mind and the Special Message from Master Okawa encourages us to never give up and keep moving forward. Barry from California shares his life-changing experience of taking a Ritual Prayer at Hawaii Shoja. We hope 2015 starts off filled with light and wisdom through many opportunities of taking ritual prayers, receiving Gohonzons, happiness planting and much more!
Contents
● A Guide for the Mind: Never Be Discouraged
● Master's Special Message (Q&A): How to Enjoy Making Efforts (Part 2)
● Our Latest Book Releases: Master's First Official Overseas Lecture: 'Be Positive'
● Member Story: Building El Cantare Civilization
● Ritual Prayer: New Year's Ceremony and Guidance on Ritual Prayer
● Spiritual Messages: A Lesson on Spirits and the latest Spiritual Messages news
● World News: Latest news from Japan, Africa, Russia and Germany
● Happiness Planting: Introducing the Happiness Planting for an Angel of Wealth
● Happy Voices: I Received a Gohonzon! Members share their joyful comments
● Happy Science Contacts: Worldwide Contacts and Branch Spotlight
We also have a print-edition with full-content articles available at your local temple.
Please contact us to receive the latest issue!