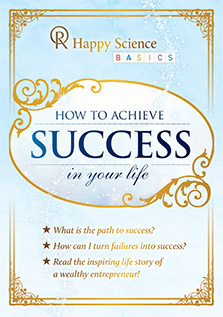 How To Achieve Success In Your Life
A new booklet series, Happy Science Basics, are now available to read online. These are 'theme-based' booklets about basic Happy Science's teachings and are made in an easy-to-read style ideal for those new to Happy Science. Also, a printed-edition is available at your local branch or temple.
In this booklet, there is an answer to the questions "What is the path to success?" and "How can I turn failures into success?", and you can read "the inspiring life story of a wealthy entrepreneur!" Click the link above to read now!
We also have a print-edition with full-content articles available at your local temple.
Please contact us to receive the latest issue!