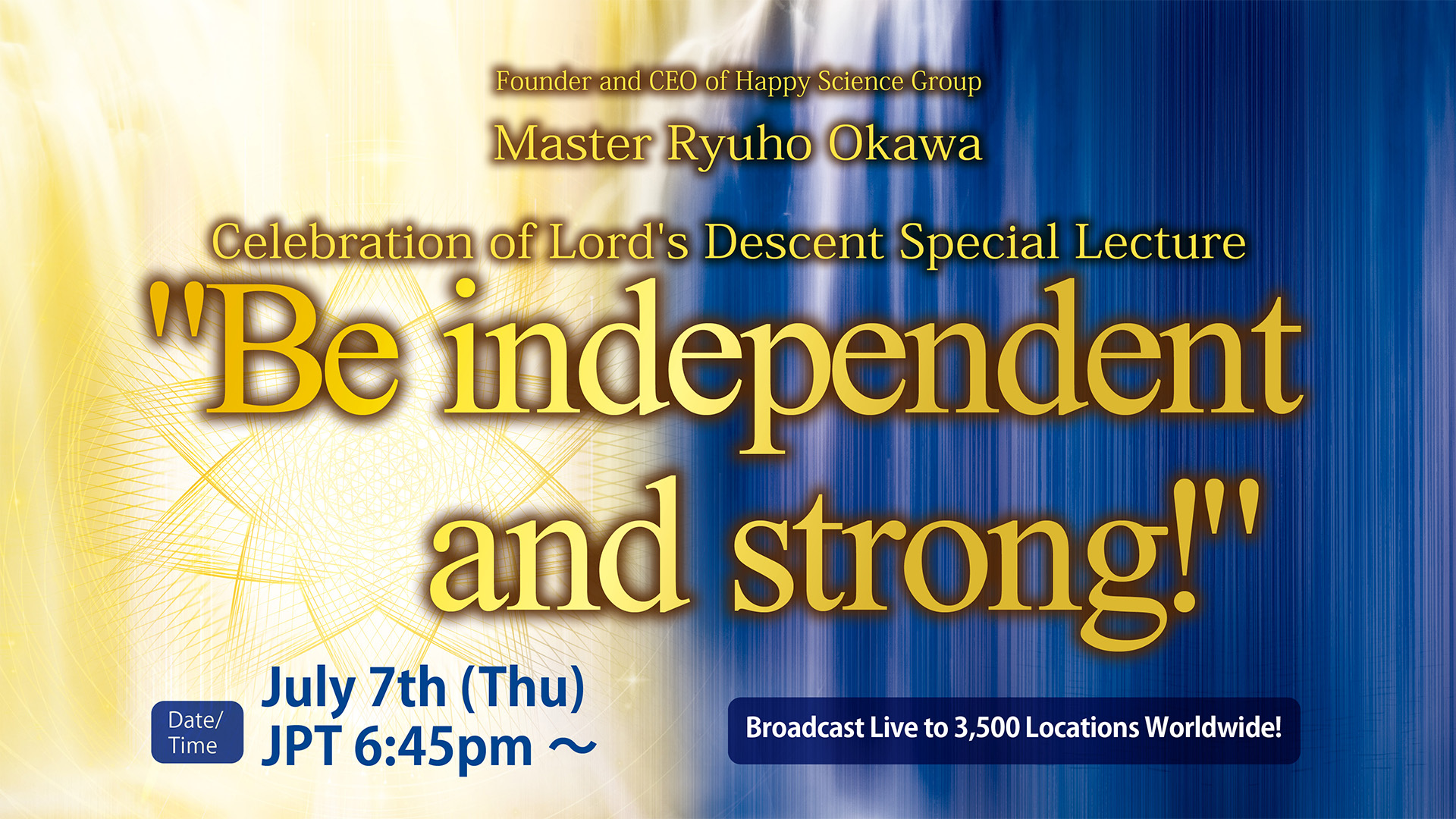 This year's lecture title for the Celebration of Lord's Descent is,

"Be independent and strong!"
The Celebration of Lord's Descent (Goseitansai) is one of the largest events in Happy Science. It is the day to give our sincere gratitude to Lord El Cantare for His descent and to make a pledge to repay through building Buddha Land Utopia on Earth.
On July 7 (Thu) it has been decided that Master Ryuho Okawa will be holding a lecture at Saitama Super Arena, Japan as its main venue, and will be broadcasted live to 3,500 worldwide, including Happy Science facilities nationwide. Reservation is both needed to attend this special lecture at the main venue, or at any Happy Science facilities. Please contact your nearest Happy Science for further information.
"Be independent and strong!"
[Date/Time] July 7, 2022 (Thu) Japan Time
JST 6:45 pm Welcome Program
JST 7:08 pm Start

[Main Venue] Saitama Super Arena, Japan
All participants must make a reservation.

[Broadcast] Happy Science facilities nationwide and worldwide.


If you prefer to attend at Happy Science facility, we kindly ask you to contact your nearest Happy Science to make a reservation in advance. It is held with attention to hygiene at the main venue and Happy Science facilities. Considering the situation, we may restrict the participants or change the schedule. We thank you in advance for your cooperation.
The Teachings Master Ryuho Okawa Preaches to Humanity
Master Ryuho Okawa's Profile



It was on November 23, 1986 at Nippori Shuhan Kaikan (currently called Happy Science Commemoration Hall of the First Turning of the Wheel of Truth), Tokyo, where Master Ryuho Okawa gave his very first lecture in public. In Happy Science, the very first lecture signifies the turning of the wheel of Truth. From that day onwards, Master Okawa's lectures has been conducted worldwide and now, total of over 3,400 lectures have been preached. (As of 2022)




Amongst many lectures conducted, especially in places where great many people can gather are called, the Special Lecture.

※The lecture title may change.