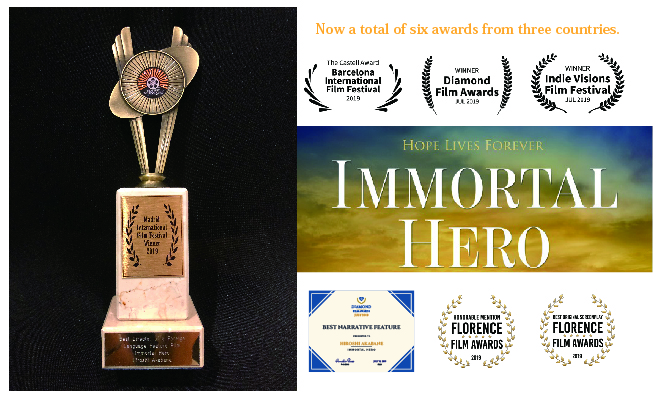 Latest Happy Science movie,

Immortal Hero has received awards around the world!
(Executive Producer and Original Story by Ryuho Okawa, Screenplay by Sayaka Okawa, and Directed by Hiroshi Akabane)

August 17th, 2019
The Madrid International Film Festival-one of the most rewarding festivals in Europe for international emerging artists and experienced creators to be a part of- was held in Spain. 20 movies were nominated and the latest Happy Science movie, *Immortal Hero was one of them. Out of 54 categories, we have received Best Director of a Foreign Language Feature Film. *Was also nominated for Best Foreign Language Feature Film.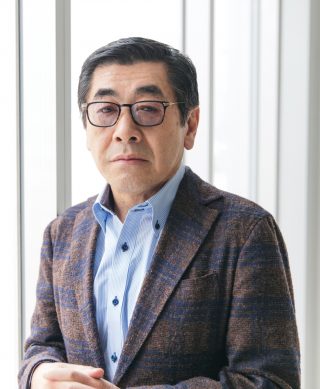 Hiroshi Akabane, the director of this movie, gave us a comment after receiving the award and the trophy.
"It was one of my dreams to receive an award through Happy Science movies and dedicate them to Master Okawa. I am very honored to offer this trophy and certificate to him."

Also, at the Florence Film Awards-monthly competition- Immortal Hero has received two trophies, Honorable Mention: Feature Film and Best Original Screenplay.

This movie, Immortal Hero will be on screen from October 18th, in Japan. English dubbed and subtitles will be on screen in America and other regions at around the same time. *English subtitles can be seen in particular theaters in Japan from the above date as well.


The actors and actresses listed below were used for their roles for voice overs.
• Michael Sinterniklaas
• Jennie Kwan
• Samantha Woo
• George Takei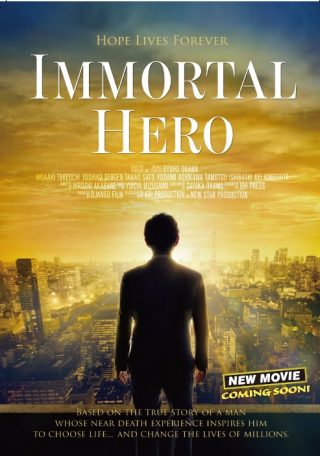 Story
Makoto Mioya, a highly successful Japanese author and publisher, has a life-threatening, near-death experience. Powerful spiritual beings with whom he has communicated most of his adult life visit Makoto to remind him he has the power within to heal himself. Reborn, Makoto commits his life to sharing the almighty wisdom he receives from the spiritual realm. As doubters, including some of his own family, challenge and question his new-found ardor, Makoto must find a way to connect with his family and the 'family of man' to inspire a better world.