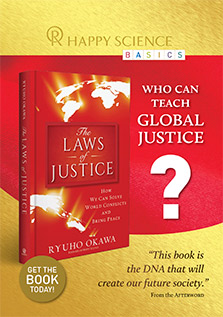 The LAWS of JUSTICE
A new booklet on the 2016 Law Series book, The LAWS of JUSTICE is now available to read online. This book is the DNA that will create our future society. This booklet will not only give you a general idea on the book, but is also useful to give to family and friends.
Contents
– About the current world conflicts
– Excerpts & chapter titles of the book
– Comments from readers worldwide
– Other related books
…and more!

We also have a print-edition with full-content articles available at your local temple.
Please contact us to receive the latest issue!