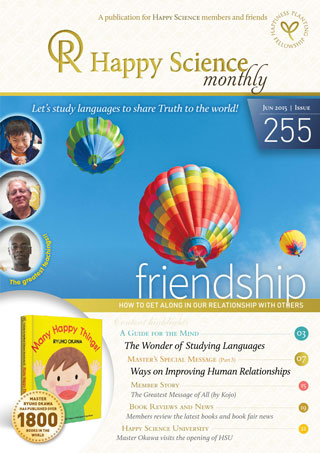 Happy Science Monthly 255
Summer is a great time to explore and learn new things! In this issue, we have A Guide for the Mind on the wonder of studying languages and we continue with Master's Special Message on improving our human relations with others. Kojo shares with us how his life changed from discovering Happy Science's teachings, while other members review our latest book releases. Also, Master Okawa makes a visit to the Happy Science University that has newly opened, filled with hope for a bright future!
Contents
● A Guide for the Mind: The Wonder of Studying Languages
● Master's Special Message (Part3) :Ways on Improving Human Relationships:
● Member Story: The Greatest Message of All
● 
Book Reviews and News: Members review the latest books and book fair news
● Happy Science University: Master Okawa visits the opening of HSU

● World News: Latest news from America, France and India
● Special Anniversary Event: The Celebration of Lord El Cantare's Descent

● Annual Pilgrimage Tour: 2015 Sacred Pilgrimage Tour: "Stay with El Cantare"
● The Golden Age Scholarship: Application details for students

● Happy Science Contacts: Worldwide Contacts and Sydney Local Branch Spotlight
We also have a print-edition with full-content articles available at your local temple.
Please contact us to receive the latest issue!