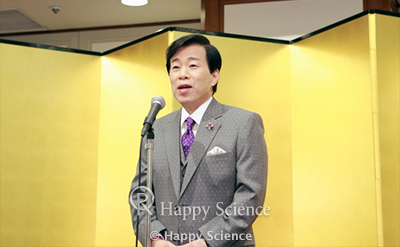 "The 2,000th Book Breakthrough Commemoration" was held in honor of Master Ryuho Okawa's published book count on November 25th, 2015. Master himself stood at the podium at the venue in Tokyo Josuikaikan Hall to share his thoughts toward his 2,000th published book and the foundation of his daily efforts to continue publishing books. When he announced that his next objective was to publish 3,000 books within 10 years, he was responded with a big round of applause. After his greetings, he responded to a swarm of interviewers.
There were about 300 party attendees including publishing officials. "Master was modest, but exceeding 2,000 published books is an amazing accomplishment," "His talk was very amusing and he was very friendly and I felt a sense of closeness from him," "Speaking with Master will be a cherished memory." Such comments were made about how impressed the attendees were with Master Okawa's personality and solid track record.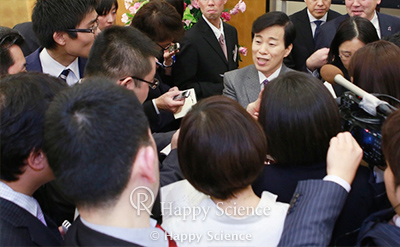 A few comments from the attendees
"I never thought of him as such an open-hearted person. If more people got to know his character, I thought that maybe he will be building more popularity amongst younger audiences."
"I misunderstood of him as an dignified and unapproachable person. However I was surprised to see how unpretentious he was."
"To see Master from a close range was deeply moving. It is amazing that Master's talk can be made into written works."
"His aura was much more dazzling aura than you experience by watching through a screen."
"I didn't know he was so frank. He was different than how he is during his lectures in a large-scale hall. He is a very approachable person."
The 2,000th celebratory book,The Laws of Justice (Japanese) (tentative title) is to be released on December 14th. [English version in early 2016.] This book sheds light on problems that the world cannot find definite solutions for, such as terrorism and refugees.
From 2,000 to 3,000 books, there is a presentiment that the passion for salvation will swell even greater and lead many people.