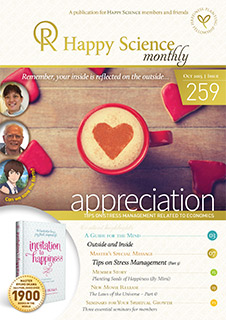 Happy Science Monthly 259
Autumn is great for reading books and watching movies! In this issue, A Guide for the Mind is about the relationship between your mind and body. Master's Special Message shares tips on stress management related to economics. Mimi from Malaysia shares with us her story of how she met Happy Science and the positive experiences of her life. Also, don't miss our upcoming Happy Science movie that reveals many secrets of the universe – The Laws of the Universe – Part 0. Let's all watch this movie with family and friends, and spread its important message to the world!
Contents
● A Guide for the Mind: Outside and Inside
● Contemplation Points: Outside and Inside
● Master's Special Message: Tips on Stress Management (Part 3)
● Member Story: Planting Seeds of Happiness (By Mimi)
● 
New Movie Release: The Laws of the Universe – Part 0
● World News: News from America, Britain, Mongolia and Malaysia
● Seminars for Your Spiritual Growth: Three essential seminars for members
● New Prayer Book Release: Prayer for the Development of Our Temple
● Book Release: Invitation to Happiness
● Happiness Planting: A basic explanation on this act to support happiness
● Happy Science Contacts: Worldwide Contacts and New Zealand Local Temple Spotlight
An image video for the Guide for the Mind is available for your deeper understanding.
We also have a print-edition with full-content articles available at your local temple.
Please contact us to receive the latest issue!