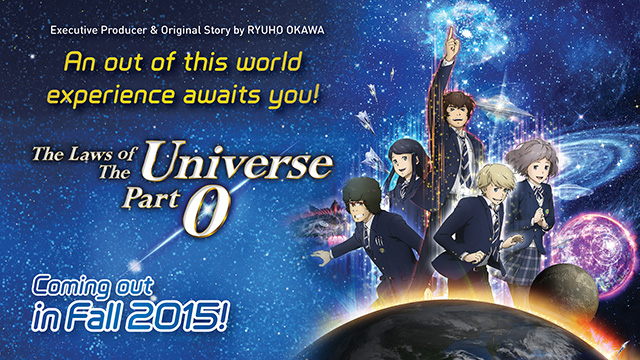 We have the lineup for the voice actors and actress for the Laws of the Universe –Part 0. Jennifer Beals from Flashdance, and Dylan Mcdermott who acted together with Clint Eastwood in the movie In the Line of Fire will be voice acting in the movie. Plus, many more great voice actors and actress will be in this exciting movie!! More details below:
Jennifer Beals as Inkar
She was cast for the movie Flashdance while she was still a student at Yale. It had a box-office gross of more than 100 million dollars. She was nominated for a Golden Globe for the movie. She was put on a cover for Vogue and jardin des modes as well.
Dylan McDermott as Yoake Suguru
His first big break as an actor was in the hit film In the Line of Fire in 1993. His role as a lawyer in the drama series The Practice, won Golden Globe Award for Best Performance by an Actor and the TV series ran for 6 years. He was also cast for the movie Olympus Has Fallen.
Tom Kenny as the Ummo alien
He is known for his role as Sponge Bob in the SpongeBob SquarePants and won the Annie Award for Best Voice Acting in an Animate Television Production. He voiced other characters in Transformers Animated, Tom and Jerry, Frankenweenie and many more.
Fred Tatasciore as the Reptilian
He is known for the voice of Hulk in the animated series. He has also done boives of characters for Madagascar: Escape 2 Africa, Enchanted, and Tangled.
Josh Keaton as Ray
(Spider man in The Spectacular Spider-Man, Young Hercules in Hercules.)
Kari Wahlgren as Anna
(Tigress in Kung Fu Panda: Legends of Awesomeness, Teenage Mutant Ninja Turtles, and Tinker Bell and the Legend of the NeverBeast.)
Yuri Lowenthal as Tyler
(Sasuke Uchiha in Naruto, Suzaku Kururugi in Code Geass, Bleach and many more in the fields of Japanese animation.)
Hynden Walch as Halle
(Nominated for Joseph Jefferson Award in The Rise and Fall of Little Voice.)
Roger Craig Smith as Eisuke
(Sonic the Hedgehog in the Sonic games, Sonic Boom, and Wreck-It Ralph. )
A never-seen entertainment with real, up-to-date alien information is finally out!
This movie is coming this fall. Stay tuned for more information!