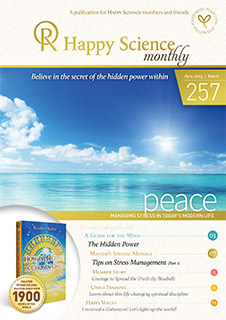 Happy Science Monthly 257
The sun is smiling brightly in this month of August! In this monthly, we have A Guide for the Mind on our hidden power and Master Okawa's Special Message on stress management. Bluebell from Kauai shares with us how she became a member and her recent experience attending a retreat for the first time in Japan. An article on Unsui training explains how we can spiritually discipline ourselves at Shoja and Shoshinkans around the world. Let's all shine our inner self and brighten up the world!
Contents
● A Guide for the Mind: The Hidden Power
● Contemplation Points: The Hidden Power
● Master's Special Message: Tips on Stress Management (Part 1)
● Member Story: Courage to Spread the Truth
● 
Book Reviews & News: The latest book reviews and book-related news
● Unsui Training: Learn about this life-changing spiritual discipline
● World News: News from Brazil, Japan, Malaysia and from International HQ
● Happy Voices: I received a Gohonzon! Let's light up the world!
● Lesson for Kids: Let's give a helping hand
● Nepal Earthquake Disaster Support: The latest news and support fund

● Happy Science Contacts: Worldwide Contacts and the Singapore Branch Spotlight
We also have a print-edition with full-content articles available at your local temple.
Please contact us to receive the latest issue!