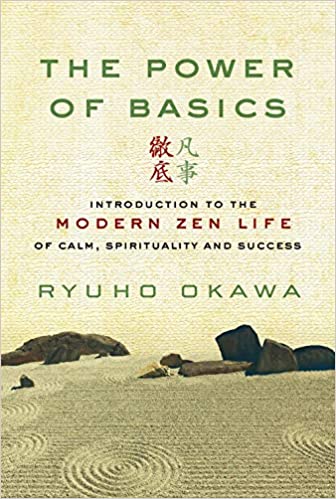 The Power of Basics: Introduction to a Modern Zen Life of Calm, Spirituality and Success presents a roadmap to success that marries spiritual discipline with cross-functional problem solving. "Basics" refers to tasks (or responsibilities) that are overlooked due to mundane or deferrable value, inadvertency leading to gaps and deficiencies. Ryuho Okawa posits that individuals who actively pursue spiritual development possess a bifold diligence and mental resolve to add exceptional value to their area of study or professional focus. Okawa advocates the importance of cultivating a mental attitude dedicated to basics and to confidently endeavor tasks to achieve new levels of productivity. This mental attitude of "dedication to basics," or "Bonji-Tettei (凡事徹底)," is the Japanese golden rule of success and a spiritual thrust towards enlightenment.
Chapter one outlines the essence of the "power of basics" through real-world examples and personal reflections by the author. In this contemporary interpretation of Zen Buddhism, Okawa stresses the importance of disciplined diligence in the era of artificial intelligence and technological dominance.
Chapter two is a question and answer dialogue between Okawa and his readers to frame the noble pursuit of professional excellence. Okawa imparts time-management advice on how to navigate productivity bottlenecks and periods of asynchronous constraint.
Chapter three explores the theme of "success management" and how we must be cognizant of the obstacles involved to become a seasoned professional. Okawa reinforces the necessity for mastering the "power of basics" introduced in the preceding chapters.
Chapter four is a master class review of the "power of basics" for personal development and professional enterprise. Okawa underscores the utility of basics in the workplace to optimize organizational efficacy system wide.
The Power of Basics will rekindle your passion and motivation to meet goals and reach unprecedented milestones. By adopting this powerful spiritual concept, you can scale to new heights of success and happiness through the mastery of basics.
List Price: $16.95
Paperback: 232 pages
Publisher: IRH Press (November 15, 2020)
Language: English
ISBN-10: 1942125755
ISBN-13: 978-1942125754