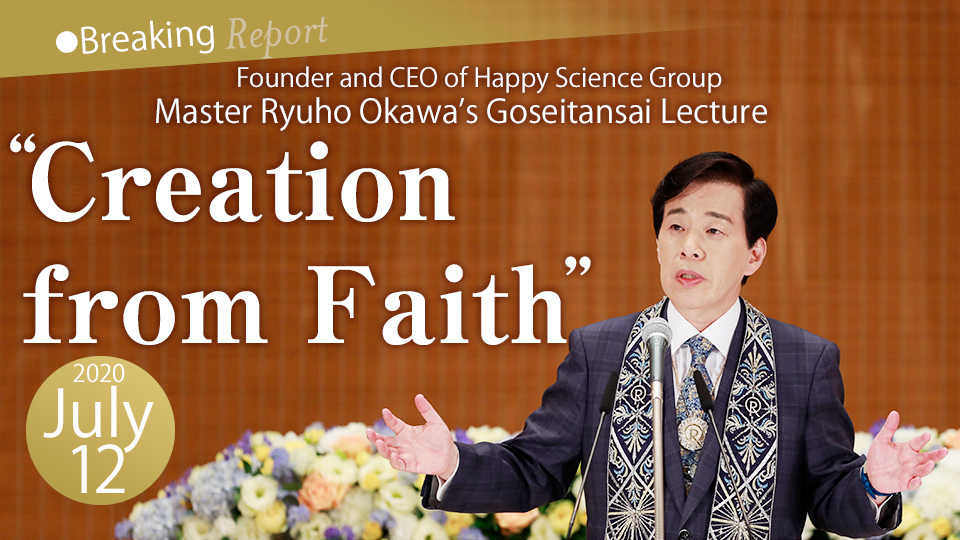 Report
The Celebration of Lord El Cantare's Descent Lecture in Sohonzan Shoshinkan, the Head Temple of Happy Science

"Creation from Faith"
Category: Lecture
Recorded: July 12th, 2020
Available at branches, local temples, main temples
The Celebration of Lord El Cantare's Descent Lecture, "Creation from Faith" was held in Happy Science Head Temple Sohonzan Shoshinkan, Japan and was broadcast live to the world on July 12, 2020.



[Points]
●How can we fight against the fear from Coronavirus?

●What is the "name of God" that all humankind need to call out?

●A miracle similar to "The Raising of Lazarus" that happened to a Happy Science member in Africa.

●What is the "ultimate salvation" which transcends happiness and unhappiness on earth?

●How can we face the coming serious world crisis?

●A religious power verses a virus pandemic and the extraordinary natural phenomenon that Gyoki, Kukai, and Nichiren showed.

●Prosperity of politics, economics, science and culture should be built on democracy and faith based on divine nature.


[Voices from around the world!]
I am so grateful to have accepted Master Okawa's lecture in my home this time of crisis. I thought He had a lot of fire, heavenly fuel, and passion and it was exactly what I needed to reignite my faith. Master's words gave me hope in a time when I am seeing many people around me losing out to fear. It has given me strong motivation to move forward in my mission. I will do my best to spread the El Cantare Belief pandemic from Canal Street to Main Street.
(30's, Male, America)


It was a wonderful lecture and so nice to feel Master's strengh, power, and love for humanity. I feel very inspired for our future-even though we have turbulent times ahead I am certain that with faith in El Cantare we will stay positive and come to the other side with a difficult world that is full of light and loce for each other. Thank you!
(20's, Female, Australia)


In these turbulent times we are in, facing a lot of calamities, natural disasters, and the normal world order changing rapidly than ever in history. We urgently need the power of faith now. Miracles will happen if El Cantare faith spreads. We shall defeat all illnesses, natural disasters and calamities by praying to God every day. We'll do missionary work and extend salvation to many through our given missions we were born to fulfill.
(30's, Male, Uganda)


Thank you Master Okawa for the wornderful lecture. During this coronavirus, my faith has become stronger. I had dear at first, but by praying and reciting "The True Words Spoken By Buddha," I have grown my faith. I have been spreading the truth to help increase faith to my family abroad and friends. Creating a strong pillar of faith increases immunity faith, faith immunity.
(60's, Female, Canada)


Each of us have a fragment of God. It will shine when we polish it! I was very happy to hear that this is the reason why Master doesn't deny democracy.
(60s, Female, Japan)


Even in adversity, we will be able to open a new era through believing in God of future prosperity from bottom of our heart. This moved my heart.
(40s, Male, Japan)


I could clearly understand the meaning of prosperity and the meaning of having a mission in this world. Earning and counting money is not prosperity or work itself. "Leading people to the truth" based on true faith is the biggest work. Through this, we can create utopia and that is the meaning of prosperity. I will start again from scratch with El Cantare faith.
(50s, Female, Japan)


Without making excuses based on environments or conditions, I will make progress step by step no matter how small it is. I surely will move forward. I will try to be the light of hope for the world. I will never give up, and I will fight come what may. I will never be defeated by an invisible fear and move forward by finding happiness from what I had already been given.
(20s, Female, Japan)

This lecture is available to watch in Happy Science branches, local temples, main temples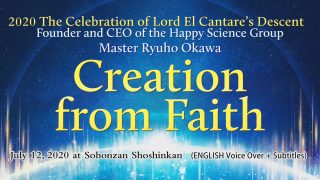 < Recommendation>
Promotion video of "THE THUNDER — a composition for repelling the Coronavirus"