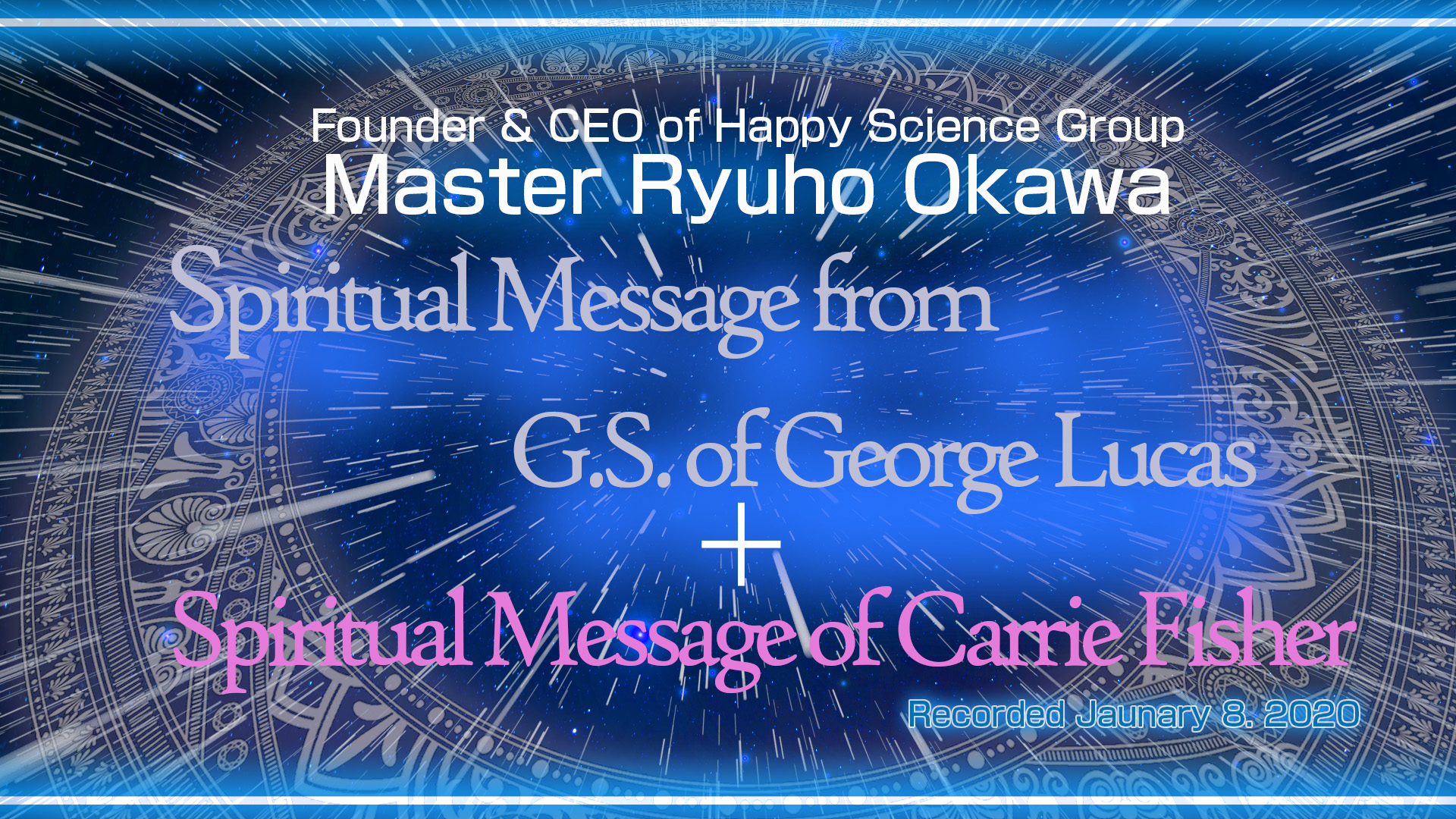 Category: Spiritual Message
Recorded: January 8th, 2020
Available at branches, local temples, main temples
Master Okawa conduced spiritual message in English!
"Spiritual Message from Guardian Spirit of George Lucas" & "Spiritual Message of Carrie Fisher" (107 min).

☆-☆-☆-☆-☆

George Lucas
(1944 – )
American filmmaker, philanthropist and entrepreneur.
Lucas is best known for creating the Star Wars and Indiana Jones franchises and founding Lucasfilm, LucasArts and Industrial Light & Magic.

Carrie Fisher
(1956~2016)
American actress, writer, and comedian.
Fisher is best known for playing Princess Leia in the Star Wars films.
Fisher died of a sudden cardiac arrest on December 27, 2016, at age 60.

☆-☆-☆-☆-☆

What did George Lucas want to portray in the "Star Wars" films?
・In these spiritual messages, the guardian spirit of George Lucas and the spirit of Carrie Fisher share us the truth portrayed in the "Star Wars" films.



【Specifically Recommended to…】


Not only the members of Happy Science but also to students, young generations, fans of "Star Wars" films, George Lucas and Carrie Fisher, those who are related to movies and entertainment fields, those who are interested in space and aliens, etc.



************************************************************************************
【POINTS】
◆What do "force" and lightsaber" truely mean?
◆What do they look forward to the children who lead the next generation?
◆What does the plot of "gigantic empire" versus "small resistance" symbolize?
◆Is "Star Wars" a true story of the history of the universe?
◆What are the missions for George Lucas and Carrie Fisher?
************************************************************************************


< Recommended Books and Spiritual Messages>
"Spiritual Message from the Guardian Spirit of Leonardo Di Caprio"

"Spiritual Interview with Stan Lee, 'The Space Age and Heroes"

"Ryuho Okawa CD "All Time Best"


Master Ryuho Okawa is capable of summoning any spirit from anywhere in the spirit world. He can then convey messages from these spirits through his vocal chords. These messages are recorded publicly, in front of an audience. In most cases, several interviewers engage in dialogue with the spirits by asking them questions. Master Okawa can also summon the guardian spirits of people who are living today and reveal their subconscious thoughts.