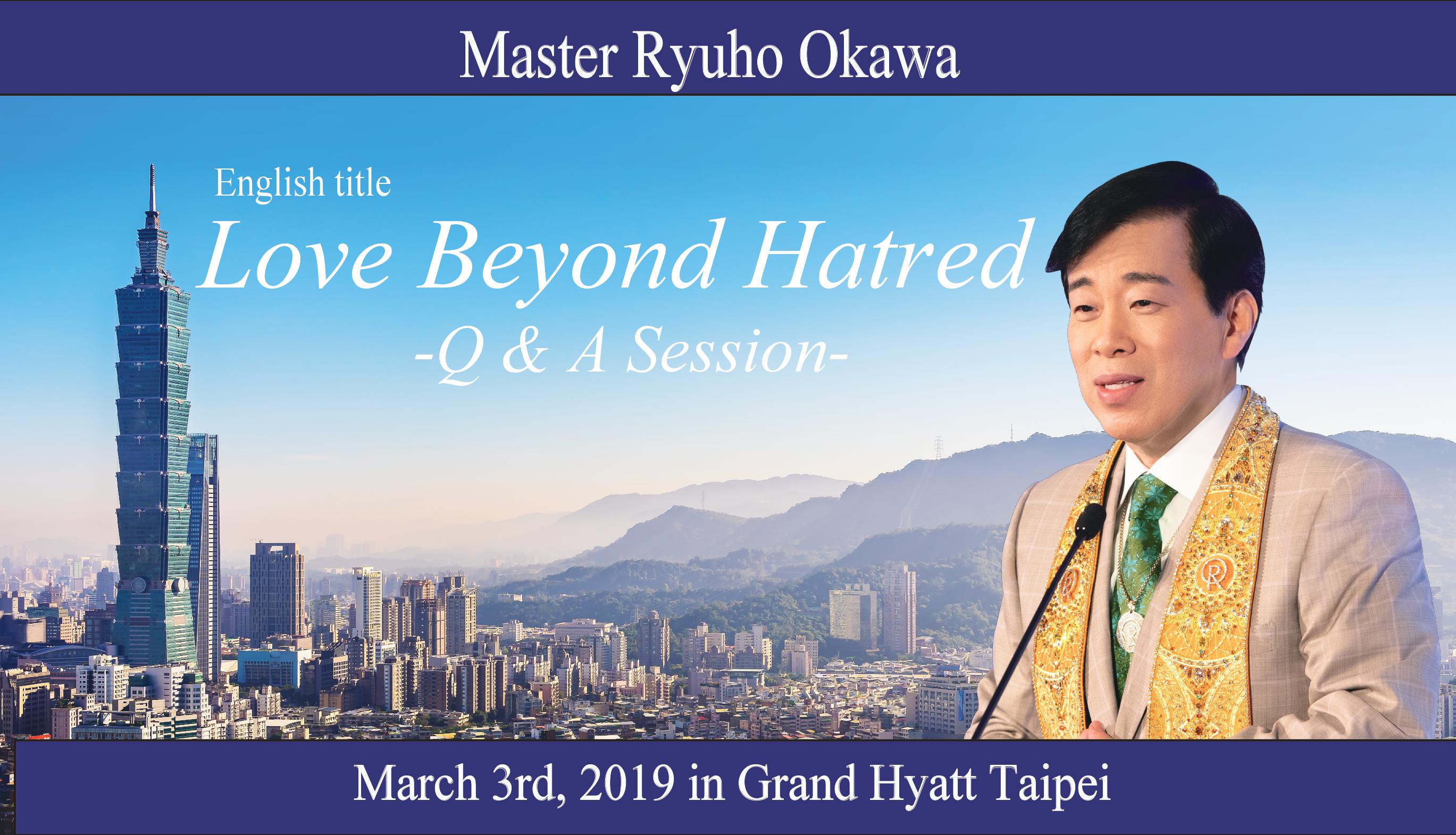 Category: Lectures
Available from March 5th, 2019
Available at branches, local temples, main temples

November 9th , 2008 The Realization of Buddhaland Utopia. -This was the first lecture in Taiwan.
March 3rd, 2019. 11 years have passed and this time,
"Love Beyond Hatred."
Master strongly emphasised earlier in 2012, that "The justice should be based on love and this love must conquer, or surpass hatred. (…) We are the same human beings made by God. So, in us, we usually must have the conception that "Love is stronger than hatred," "Love is mightier than hatred" and "Love can save the world."

Also, in Germany 2018, where Master preached "Love for the Future" He predicted that the Third World War might occur in 2025. And so, the decision to support the world's freedom, democracy, and belief in God is the choice that the people of the world must now decide to make.
Then, what is the mission of Taiwan?




Having a high profile of Taiwan's future, about 800 people attended this special occasion to hear Master Okawa's lecture in Grand Hyatt Taipei. What are His messages to Taiwan? Q & A session was also conducted.
< Lecture Points >
● On conducting this lecture, the guardian spirit of Xi Jinping came to 'greet' us. Why?
● How can we distinguish totalitarian country?
● Japan should not leave Taiwan behind. Japan needs to have a responsibility for Taiwan.
● Trump Kim summit failed to reach a deal in Vietnam but how will this effect Taiwan and other Asian countries?
● The points of happiness in modern society and the role of the government.
● Three important ideas that can lead the Chinese to the path of happiness.
● The relationship among U.S, Japan and Taiwan will save the world?

< Q & A session >
● What are the things to say about the Beijing government and the things to expect for the 2020 Taiwan presidential election?
● Please tell us once again, the definition of "happiness" ?


You can watch the lecture at your nearest local branch or temple! Please contact your local branch or temple.
< Reference books >
< Related website >