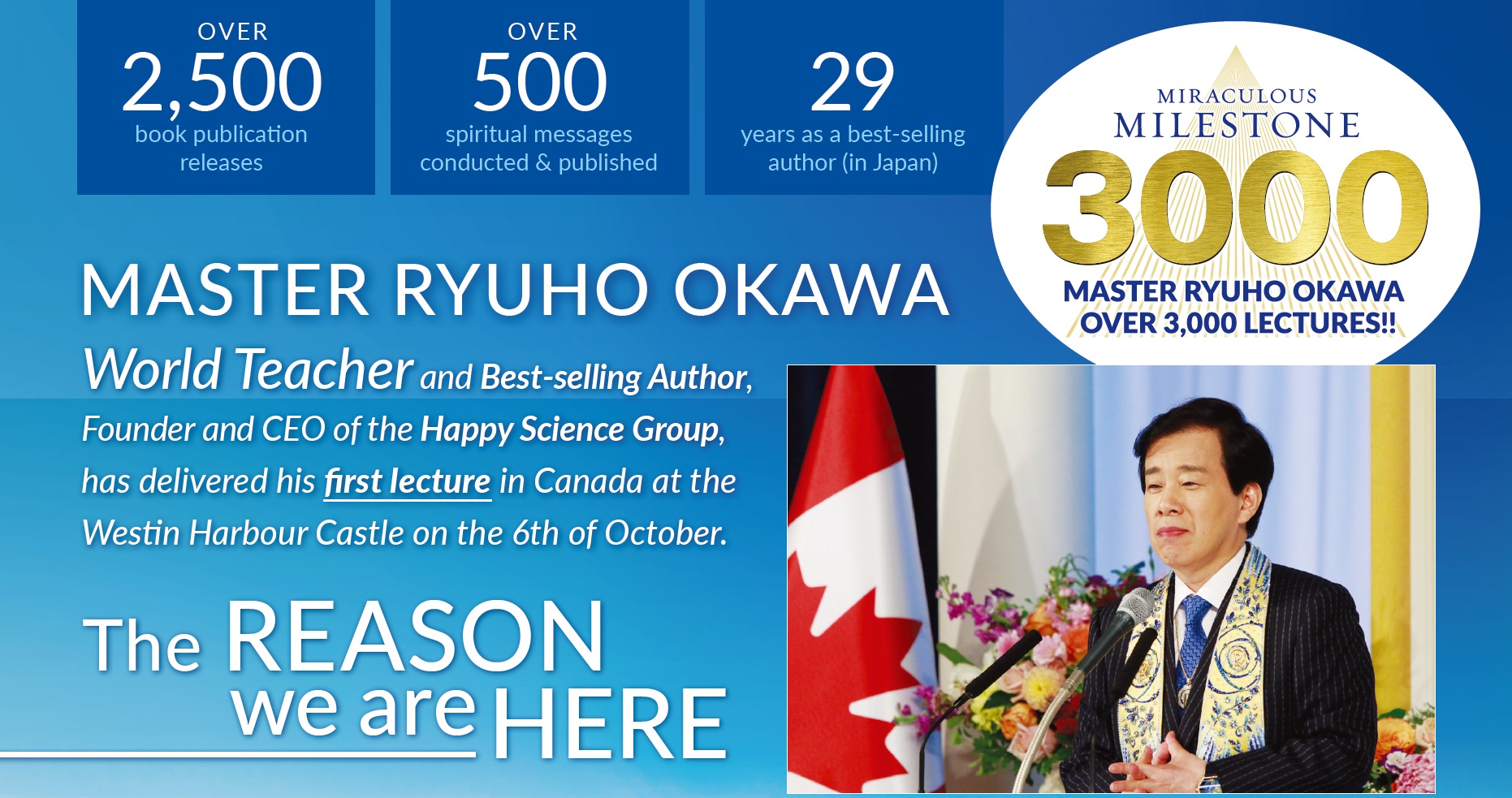 From Toronto Star

Master Ryuho Okawa World Teacher and Best-selling Author, Founder and CEO of the Happy Science Group,
has delivered His first lecture in Canada at the Westin Harbour Castle on the 6th of October.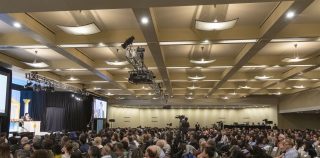 "Responsibility" means "the world justice" and "what is the Truth of this Earth."
Master Okawa started His lecture by expressing His impression of Canada as a gentle, tender and kind country. He then continued to say that, however, only to think too much about tolerance and liberalism easily leads to weakness of the nation. This is also a problem of Japan.
Master Okawa then mentioned the book, Common Ground, written by Prime Minister Trudeau, and said, "In the book, Mr. Trudeau says 'Trudeau is a famous name in Canada and it means responsibility.' Mr. Sheer, on the other hand, says nothing about it, but he wants to take some responsibility for Canada."

He also mentioned about Miss Greta Thunberg, a young environmental activist, and said, "Although Miss Thunberg says that emitting CO2 is bad and that it is harmful to humankind, this is not true from the scientific point of view." "I am a spiritual Master and I know these 10,000 years of history. The Ice Age ended about 10,000 years ago, and then global warming has been keeping its trend. It has led to the flourish of a lot of civilizations. Plants on Earth absorb energy from the air and then spread a lot of green. They are then fed to animals and, as a result, people can live on this Earth. I think the next age will be the beginning of the Ice Age. So, you don't need to think too much about global warming. This kind of environmentally friendly opinion is common in Canada, but there seems to be some kind of communist thinking behind this opinion."

Master Okawa then said, "Please think about more important things. That is, for example, how to solve the poverty of the world. Billions of people are suffering from poverty. It's a mission of an advanced nation. Canada has the capacity to help the people of the poor countries. Japan should be like that too. We must define the meaning of 'responsibility.' 'Responsibility' means the 'world justice' and 'what is the Truth of this Earth.' If you hesitate to decide, it does not mean 'tolerance', but you are just floating over the global world. Canadian people must be one of the leaders of the world."

He then moved on to talk about Taiwan. "The prosperity of Taiwan is based on their freedom and it is precious to keep their peace, prosperity and happiness of the people. On the other hand, China has not experienced real democracy in its 5,000 years of history." In his lecture delivered in Hong Kong in 2011, Master Okawa said, "Please change China through the prosperity of Hong Kong," "This prosperity comes from the faith in God. It comes from freedom of the people, freedom of thinking, freedom of expression, and freedom of election." Then, there occurred the Umbrella Revolution in 2014, and now, what Master Okawa calls "the Hong Kong Revolution." He said, "I don't hate Chinese people. I like them. I love them. I want them to be happier. But Xi Jinping formally denies faith." "Please teach (people in China) good things from Canada. God is alive. God is not dead. God wants to save you, save people who are suffering. It is your responsibility."
"GOD IS NOT DEAD. God wants to SAVE YOU…"
Master Okawa then said he had visited the Gay Town in Toronto. "In this meaning, you are a leading country of the world. It is the appearance of tolerance and diversity. If you want to know more about this matter, please come to our temple in Toronto. I have a lecture already recorded."
Master Okawa concluded his lecture by saying, "This is the reason we are here. We are not materialistic beings. God created human souls. We came here to experience a new age. The most important thing is to learn how to live in this world in your physical body. This is the reason we are living in this world. This world is materialistic, but in this materialistic world, be spiritual. That's the main reason of this life."
---
・ We need to spread these messages. We need to create concrete actions. This is an international issue, not just a Hong Kong issue.
(Female・President of Canada-Hong Kong Link)
---
・It was great encouragement. Happiness is most important to human beings and only by helping people have freedom can we enjoy happiness.
(Female・Awards winning poet, writer and journalist)
---
Master Ryuho Okawa is Japan's most eminent spiritual leader, international best-selling author of over 2,500 books and founder and CEO of Happy Science Science Group. He attained Great Enlightenment in 1981, awakened to His higher-self known as El Cantare, and began communications with spiritual beings in Heaven, including the great leaders of the world's major religions, that continues to this day. His enlightenment reveals past, present, and future, the reason and process by which the universe was created and the Laws that govern it. By revealing the universal Truth for all to see, He is providing a common platform for people of different beliefs and creeds to come together in understanding one other. He is also laying new foundations for science, education, economics, politics and the arts to usher in a new era.
In Toronto, He surpassed a miraculous milestone in conducting over 3,000 lectures worldwide. As World Teacher, He continues to work tirelessly so that all seven billion people in the world can achieve true happiness.
Recommended key books to learn more about Happy Science and Master Ryuho Okawa:
Available at major bookstores in Canada.