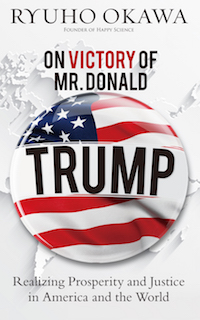 The victory of Donald Trump in the U.S. presidential election shook mass media's credibility of American polls and of predictions on American elections. Meanwhile, Master Ryuho Okawa of Happy Science, who is also the author of this book, have been steadily forecasting Trump's victory since January 2016 and publicly releasing it in his works including The Trump Card in the United States: Spiritual Messages from the Guardian Spirit of Donald Trump. He had also prophesied the so-called "Brexit" back in 1990.


The author's prediction of the future comes from a source of information that neither the media nor the intelligence agencies possess. His source, in psychological terms, is the subconscious—in other words, information from the Spirit World. Through his extraordinary spiritual powers (the six divine supernatural powers in Buddhism), Okawa explored the depths of Trump's soul and discovered that the American was a well-known U.S. president in his past life. Based on that, Okawa foresaw that Trump would win the election.


On Victory of Mr. Donald Trump reveals the name of Trump's past life and the spiritual cause behind his victory in the election. At the same time, it gives an outlook on what he will do as president from 2017, and in which direction America and the world will move. This outlook will not give you an uneasy feeling, but a hopeful one toward the Trump administration. Make use of this prediction in your business and your life as soon as you can, and you will be reaping benefits that only those who know the future are able to get their hands on.
List Price: $14.95
Paperback: 112 pages
Publisher: HS Press (November 13, 2016)
Language: English
ISBN-10: 1943869154
ISBN-13: 978-1943869152
External Resource