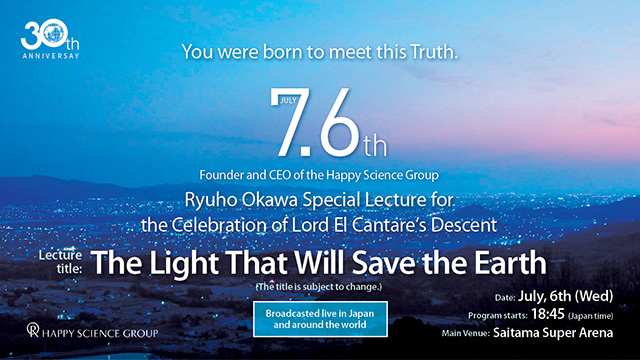 On July 6, Master Ryuho Okawa will give us a lecture titled "The Light That Will Save the Earth" at the Celebration of Lord El Cantare's Descent 2016 in Saitama, Japan.
The lecture will be broadcast live to 3,500 locations in the world!
You can participate in the Celebration and watch the lecture at your local branch or temple!
To watch the live broadcast, please contact your local branch or temple.
Date: Wednesday, July 6th, 2016
Program start: 18:45 (Japan time)
Main Venue: Saitama Super Arena
*Reservations are required to attend the main venue. You will need a ticket to enter.
*English live-translation is available at the main venue.
Satellite Broadcast Venues:
Happy Science Main Temples, local temples, missionary centers in the world.
*For details, please contact Tokyo International HQ
Master Ryuho Okawa was born in Tokushima, Japan on July 7th, 1956.
He is the core part of El Cantare's soul and is now teaching the Truth worldwide.
El Cantare means "the beautiful land of light, Earth" and his mission is to bring happiness to humanity. On this day, people offer their sincere gratitude and celebrate as one.
Related articles
Flash Report: The 2015 Celebration of the Lord's Descent Lecture, "The Great Turning Point in Human History."
Flash Report: The 2015 El Cantare Celebration lecture titled,To The World We Can Believe In