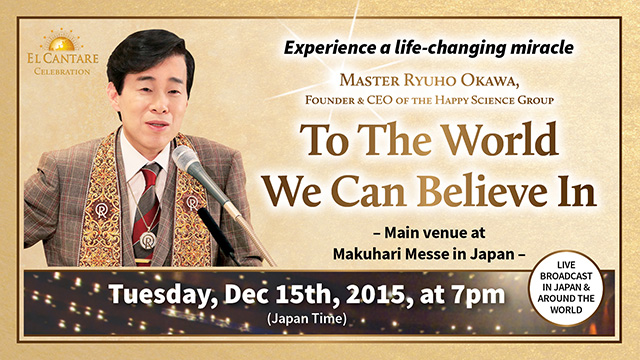 Experience a life-changing miracle
A lecture for the El Cantare Celebration will be held on December 15th!
You can attend the Celebration at your local branch! To watch the live broadcast, please contact your local branch or temple.
Master Ryuho Okawa, Founder and CEO of the Happy Science Group, giving a lecture entitled:
To The World We Can Believe In
Date: Tuesday, December 15th, 2015 at 7pm (Japan Time)
Main venue: at Event Hall in Makuhari Messe
Will be broadcasting in Japan & around the world
Happy Science, founded by Master Ryuho Okawa in 1986 with the goal to save all humankind, will mark its 30th year in 2016. The basic teaching of the Four-fold Path (Love, Wisdom, Self-reflection and Progress) has been spreading all over the world, with members currently active in more than 100 countries. Master Okawa has now published over 2,000 books and has given more than 2,400 lectures.
El Cantare Celebration is one of the largest events at Happy Science, held in December since 1991. At the celebration, people offer sincere gratitude to the Lord El Cantare, and reflect on the year while making a new pledge for the coming year. You can participate in this celebration by going to your local branch or local temple in December.
Related Articles
A lecture for the Celebration of Lord El Cantare's Descent will be held on July 7th!